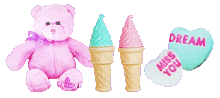 It's midnight
and somehow I just don't wanna go into bed.


I started watching a korean drama 'Secret Garden' just now.
The second episode is so funny!


It's really interesting and you should watch it too if you are interested in dramas like me.
It has been a long time since I watched a good drama, so I should start watching again.


And just now I discovered some really pretty clothes on yahoo!jp auctions!
But you know what?
Japan has New years holidays just now

that means, I can't order with my shopping service!!!

how depressing!!!
And I wanted to get such a cute Onepiece from MILK ;_; not fair.


Anyways,

I told you I got a shedule book for 2011 at christmas, which I really try to use ;p (I'm so lame in such things)

But the cover wasn't really my taste
so I re-designed it
and it turned out like this:





I really like it now!


At first I wanted to use Angelic Pretty-stickers, but then I saw those cute bear one's (they're from a Gothic Lolita Bible)

and thought they'll look much cuter on that

Ok
I'll try and get some sleep

see you