Ok this post is gonna to be long!
a more detailed report and more pictures I posted at my Livejournal.



The party started at 1pm.
There was a doorman checking our invitations and guest list :D this was pretty cool!
after we got upstairs Maki & Asuka welcomed us and offered us to get a drink and candy

Maki&Asuka and their cute manager
the prices for the lottery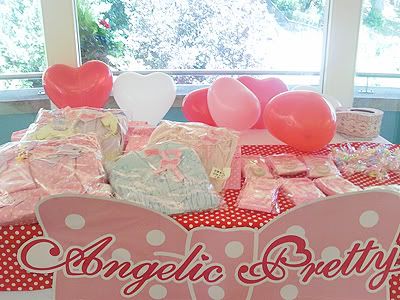 and I won a Milky-chan ring
and then later... Maki&Asuka presented special AP Cake (EPIC)


So delicious

So after taking lots of pictures the party sadly came to an end at 4pm.
I had to rush to the train station, but I could enjoy the whole party



My present: (Milky Planet in black is really gorgeous)
So the procedure of the Tea Party was like that:
Welcome
Eating Cupcakes & Candy
Lottery
Ice cream
Taking Pictures
CAKE
Kera Snaps
Taking Pictures
Taking Group Picture
Maki&Asuka giving autographs
Goodbye with presents